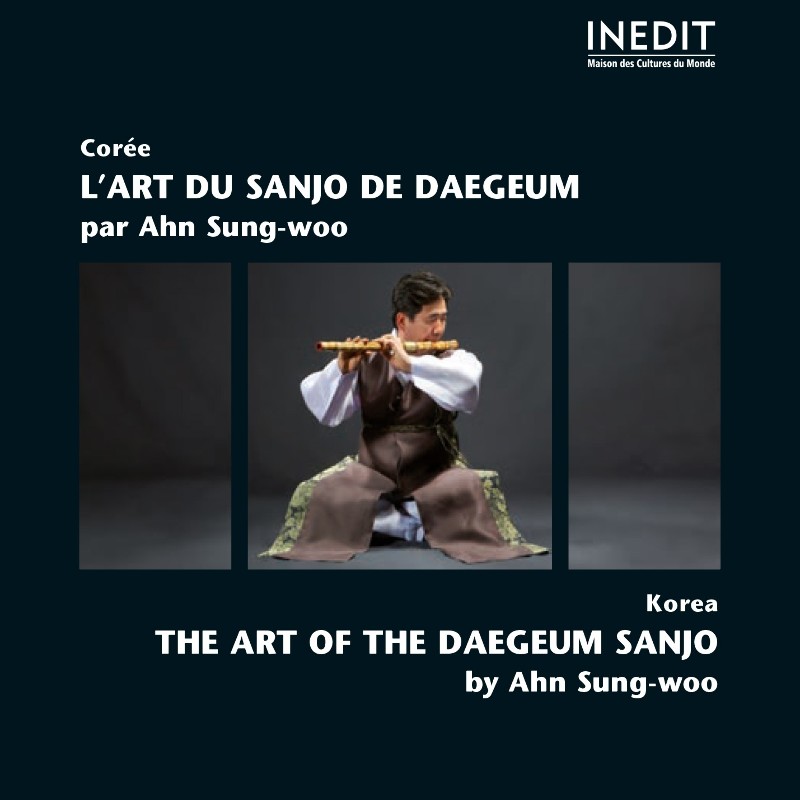  
KOREA • THE ART OF THE DAEGEUM SANJO
The Art of the Daegeum Sanjo
Garanties sécurité
(à modifier dans le module "Réassurance")
The sanjo was born at the end of the 19th century as a suite for a solo instrument and a drum. More than any other genre, it embodies the Korean traditional music of today, probably because of its contemporary sounds and its stounding virtuosity.
The sanjo draws on several heritages: the improvised shamanistic music sinawi, the one-actor opera pansori, the aristocratic chamber music pungnyu. The piece, in several parts, is performed as an impromptu: at first calm and meditative, the playing as the tempo is getting faster, is more tensed and brilliant so that it brings a feeling of jubilation.
Created originally for the zither gayageum, the sanjo was soon adopted by several masters on various Korean instruments. The daegeum transverse bamboo flute renders perfectly the constrasted moods of the sanjo with its crisp and clear tones which can turn dark and windy or sound like a shawm thanks to a sympathetic vibrating membrane.
Ahn Sung-woo, born in Paju in 1961, is one of the best daegeum players of his generation. He performs here Seo Yong-seok's daegeum sanjo characterized by audacious playing and apparent freedom. He is accompanied by Jo Yong-bok on the janggu drum.
This album features also a solo improvisation and variations on a work song and on shamanistic music accompanied by the master of the ajaeng bowed zither, Kim Young-gil.
See also :
The art of the geomungo sanjo by Lee Jae-hwa
The art of the ajaeng sanjo by Kim Young-gil
The art of the gayageum sanjo by Park Hyun-sook
Data sheet
Country

Korea

Release year

2014