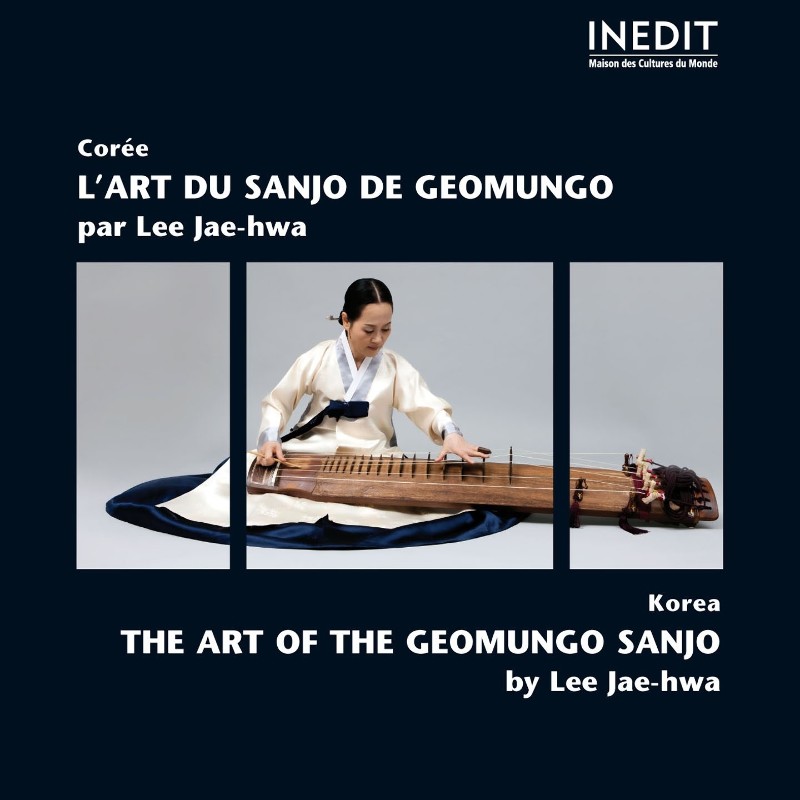  
KOREA • THE ART OF THE GEOMUNGO SANJO
by Lee Jae-hwa
Garanties sécurité
(à modifier dans le module "Réassurance")
This is the third album in a series of three CDs dedicated to the art of Korean sanjo. The sanjo is a suite for solo instrument accompanied unobtrusively by a drum. The sanjo draws on several heritages: the improvised shamanistic music sinawi, the one-actor opera pansori and the aristocratic chamber music pungnyu. Today, most of the Koreans consider this form as the most representative of their traditional music because, one generation of performers after the other, it is always changing.
Created at the end of the 19th century for the gayageum zither, the sanjo was soon adopted on other Korean instruments, in particular the fretted zither geomungo. At first calm and meditative, the playing becomes more tensed and brilliant as the tempo is getting faster, so that it brings a feeling of joy and physical pleasure.
The geomungo is not as well known abroad as the gayageum, although the Koreans consider it the "elder of their instruments". It is a large zither equiped with 6 silk strings and several frets which allow a subtle work on tone and ornamentation. The strings are plucked with a wooden stick which can produce both very sweet tones and strong percussive attacks.
Lee Jae-hwa renders the version of her master Han Gap-deuk. Born in 1953, she belongs to the third generation of the followers of Baek Nak-jun, the creator of geomungo sanjo. She has spent almost 20 years studying this sanjo with her master Han Gap-deuk and her work on the reconstitution of its various versions have earned her today the title of Holder of Important Intangible Asset n°16, the geomungo sanjo.
See also:
The art of the gayageum sanjo by Park Hyun-sook
The art of the ajaeng sanjo by Kim Young-gil
The art of the daegeum sanjo by Ahn Sung-woo

Data sheet
Country

Korea

Release year

2013